European Review of Applied Sociology is a double-blind peer-reviewed scholarly journal that publishes scientific articles, research reports, teaching notes, essays and book reviews. The Journal consistently covers an array of subject areas including social change and social structures, globalization, social networks, communication, law and politics, labor market, migration, ageing, social work, community research, family, social statistics and other topics from applied sociology.
The journal is published biannual by West University of Timisoara, Department of Sociology. The journal is available both in printed and open-access electronic version. The articles are written exclusively in English. Authors are encouraged to submit complete, unpublished, original, and full-length articles that are not under review in any other journals. If you want to order print copies, please contact: eras@socio.uvt.ro.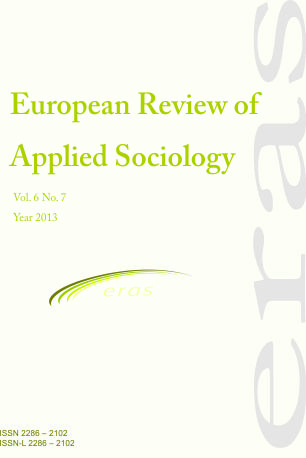 Information for Authors:
See the new website: http://www.degruyter.com/view/j/eras
Submissions are accepted on a rolling basis all year. Please submit your manuscripts to European Review of Applied Sociology via email to: editor.eras@gmail.com
For guidelines on manuscript preparation and submission, please visit the Author Guidlines. 
This work is licensed under a
Creative Commons Attribution 3.0 License
.
Copyright © 2008-2014 European Review of Applied Sociology. All Rights Reserved.
ISSN 2286–2102 (print) ISSN 2286–2552 (online)
ISSN-L 2286–2102